Our primary focus is to deliver simple yet powerful solutions; simple to implement, simple to use and simple to maintain, offering powerful results.
CREATING EFFICIENCIES FOR OUR CLIENTS
SalesScoreKeeper offers the tools to create operational efficiencies utilizing Business Process Automation to create automated, streamlined solutions for complex business processes and functions beyond conventional data manipulation and record keeping activities. Our solutions are designed to provide an immediate impact on your business and are sustainable for organizational growth.
See what our clients have to say…
"Luis, Samantha and the entire SSK team provide an easy to use, time saving & cost effective tool that ensures our entire sales team is paid accurately, fairly and one time. I couldn't ask for a better partner, to help manage every aspect of our commission process, than SSK!"
"The addition of ScoreSheets to populate tables with transactional data and easily export to Excel is a game changer when it comes to creating sales reports. Sales managers are no longer fumbling or waiting for someone else to provide meaningful metrics."
"The SSK team is customer-focused, always open to suggestions for improving their products, and provides great sales compensation feedback based on their wide industry experience."
POWERFUL FEATURES FOR YOUR BUSINESS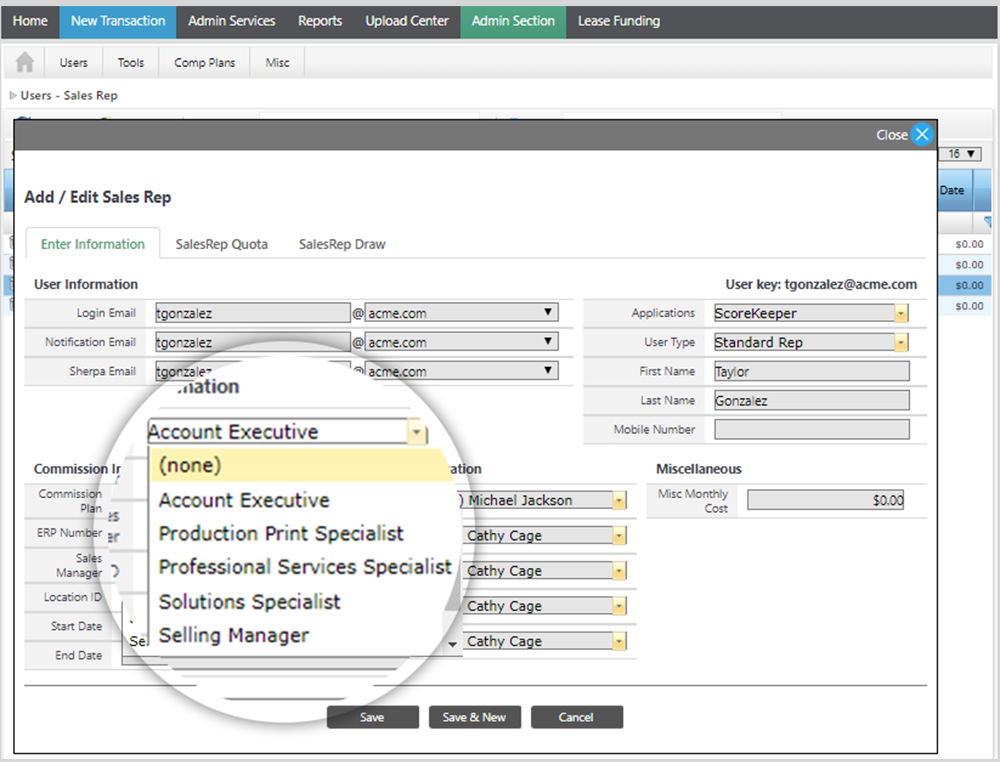 Comp Plan Design
Bring your own comp plans and SalesScoreKeeper will configure your site to calculate simple to the most complex commissions according to your organizations comp plan design, as no two companies comp plans are the same.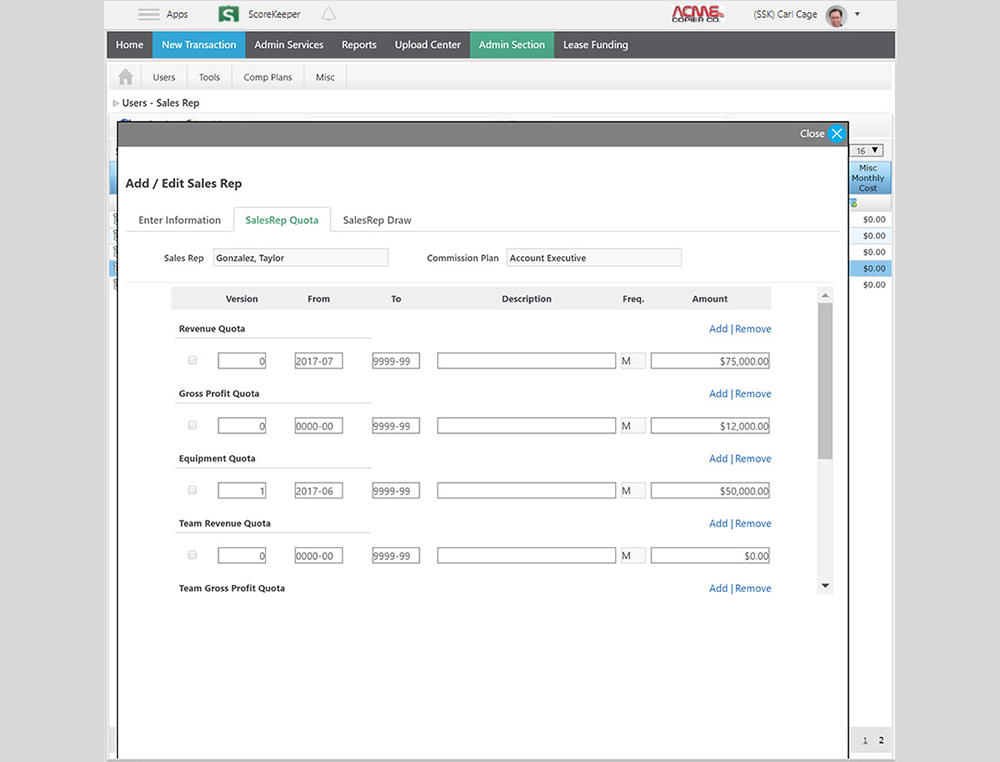 Multi-level Quota Tracking
Manage multiple levels of quotas related to your comp plans which allows you to incent reps on more than just one line of business.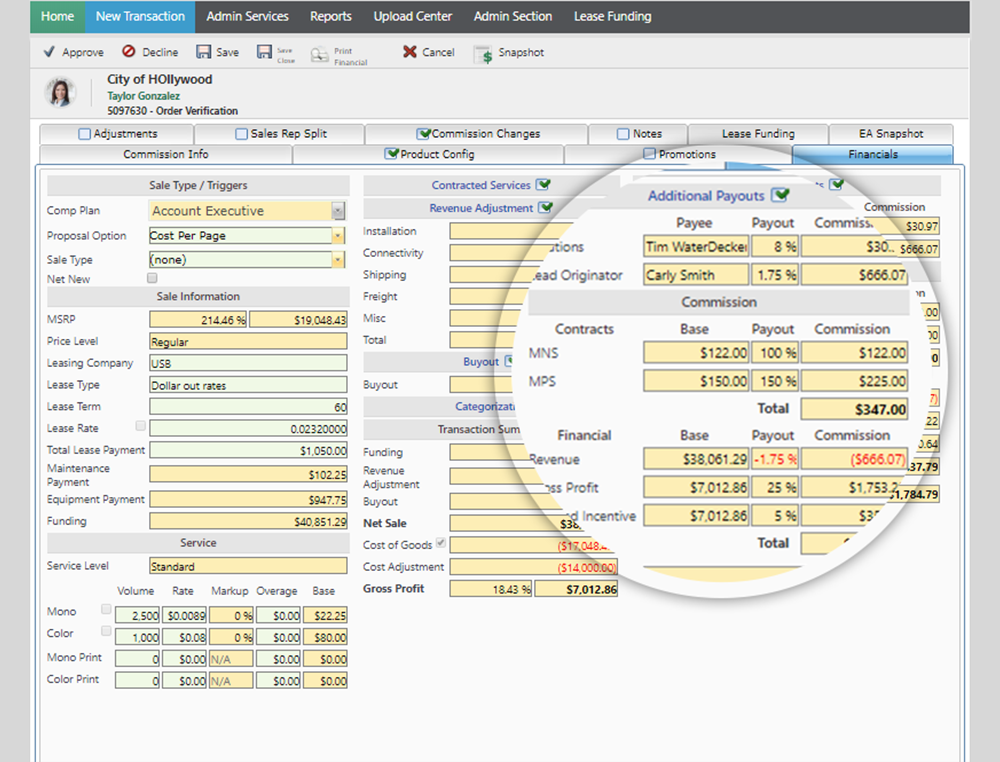 Transactions Level Payouts
Provides the ability to pay and report on commissions on a transaction level.

Live Data Connection
ScoreSheets is integrated with ScoreKeeper, providing a live feed with instant access to total revenue, transaction lists, sales quotas, benchmark achievements and much more.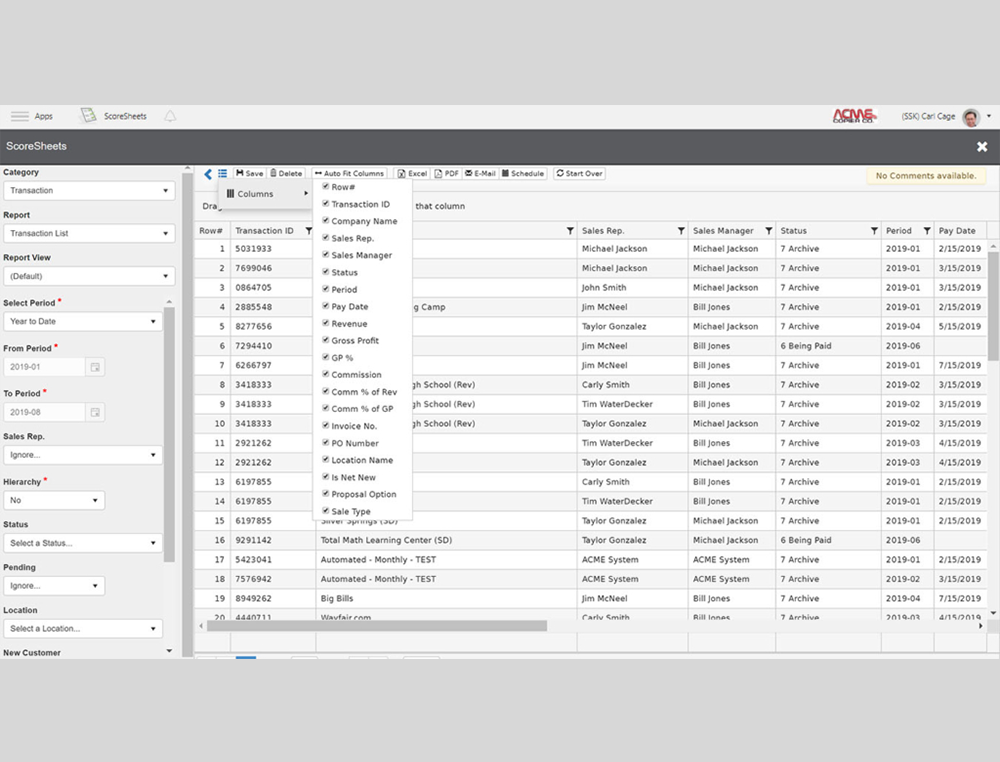 Interactive Reporting
ScoreSheets allows you to arrange data utilizing drag and drop functionality with a robust filtering system allowing you to create, save and share reports.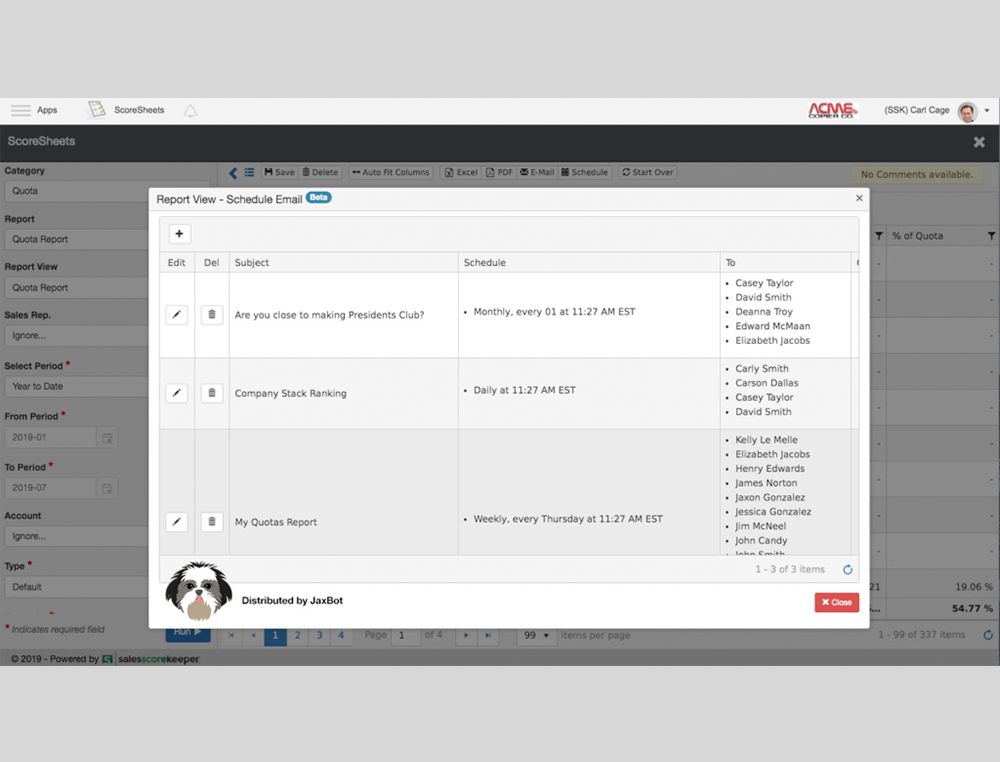 Jax-bot
ScoreSheets built-in scheduler allows you to create predefined report views, select the distribution list, determine re-occurrence and simply schedule.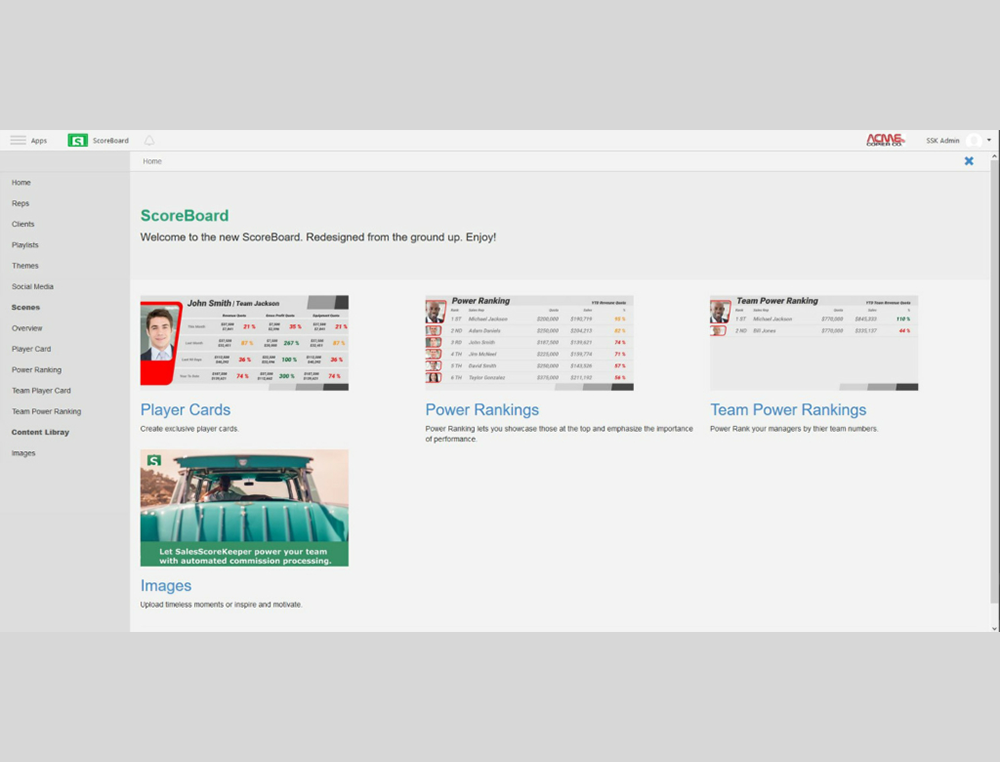 User Portal
It is as easy as uploading content, determining the playback order, and pressing play making communication and motivation automated and simpler than ever.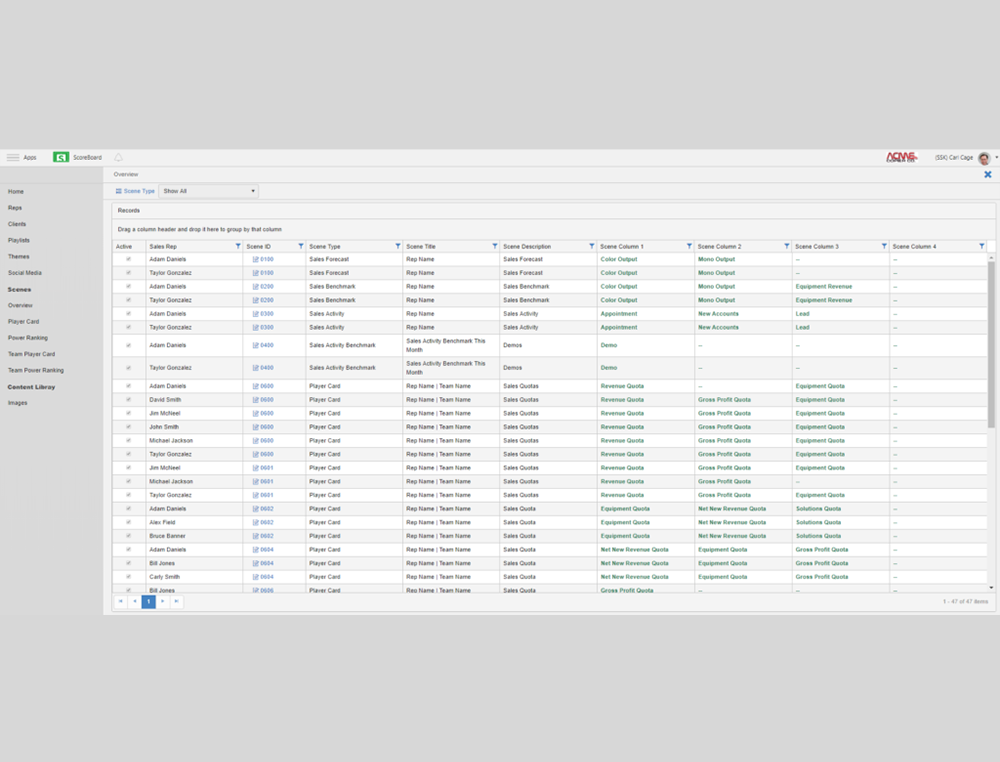 Configurable Templates
Choose from a growing number of existing designed templates that are configurable to your company's logo and color scheme.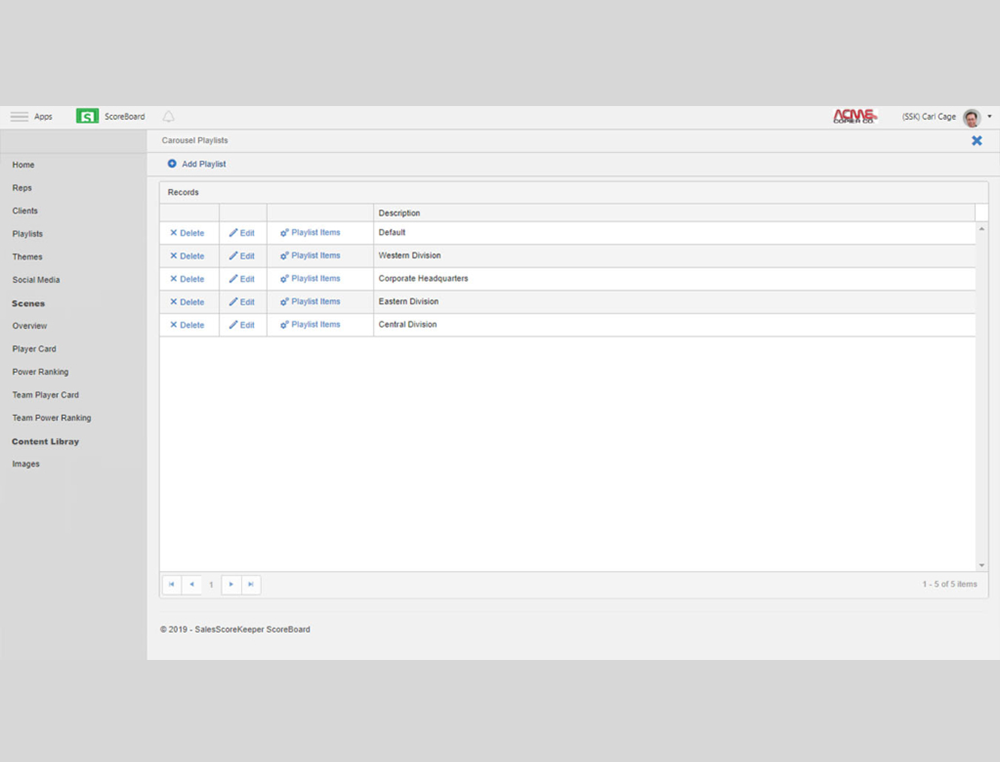 Single/Multi Channel Broadcast
Seamlessly display content with single and multi-channel broadcast capability allowing for varying content throughout multiple locations.
Our Solutions are focused on the concept of complete transparency related to sales and commissions…
Your reps will always know what and when they are being paid, quota attainment, and where they are ranked overall.